This dyed Easter eggs recipe does it naturally by combining science and kitchen ingredients, including red beets, garam masala, coffee, blueberries, curry, and more, to make beautiful colored eggs that are easy and inexpensive and perfect for Easter. Here's how.
PAAS is so predictable. What we find far more intriguing in terms of dyed Easter egg escapades is eschewing the expected fizzy tablets and embracing kitchen scraps. Yes. Scraps. The half pot of coffee left from this morning. That tin of musty turmeric. The bag of frostbitten blueberries. Even that half glass of wine that went undrunk last night (for shame!). They're all naturally inspired approaches to dyed Easter eggs that create a lovely pastel-ish, non-lurid hue.
We snooped around our kitchens like crazy after borrowing inspiration–and a nifty red beet-dyeing trick–from Leslie Jonath, author of At the Farmers' Market with Kids. Then we tinkered with all manner of ingredients languishing in our kitchens to come up with some really swell dyes. Although we've listed almost enough ideas to fill an egg carton, though don't let our suggestions squash your curiosity or your creativity. Originally published March 26, 2012.–Renee Schettler Rossi
How The Kids Can Help Dye Easter Eggs
Lest you get caught up in your second childhood and find yourself monopolizing the whole Easter egg making thing, author Leslie Jonath gently notes that the kids ought to be part of the whole dyed Easter egg process, not just the dipping and dyeing. So back off and let them help brainstorm, assemble, and prep the ingredients for dyeing the Easter eggs, just as they do with regular ingredients when it comes time to make dinner (uh, they do help cook, right?). It may take a little more time, but they'll be so much more invested in the outcome. And their creative brilliance may surprise you.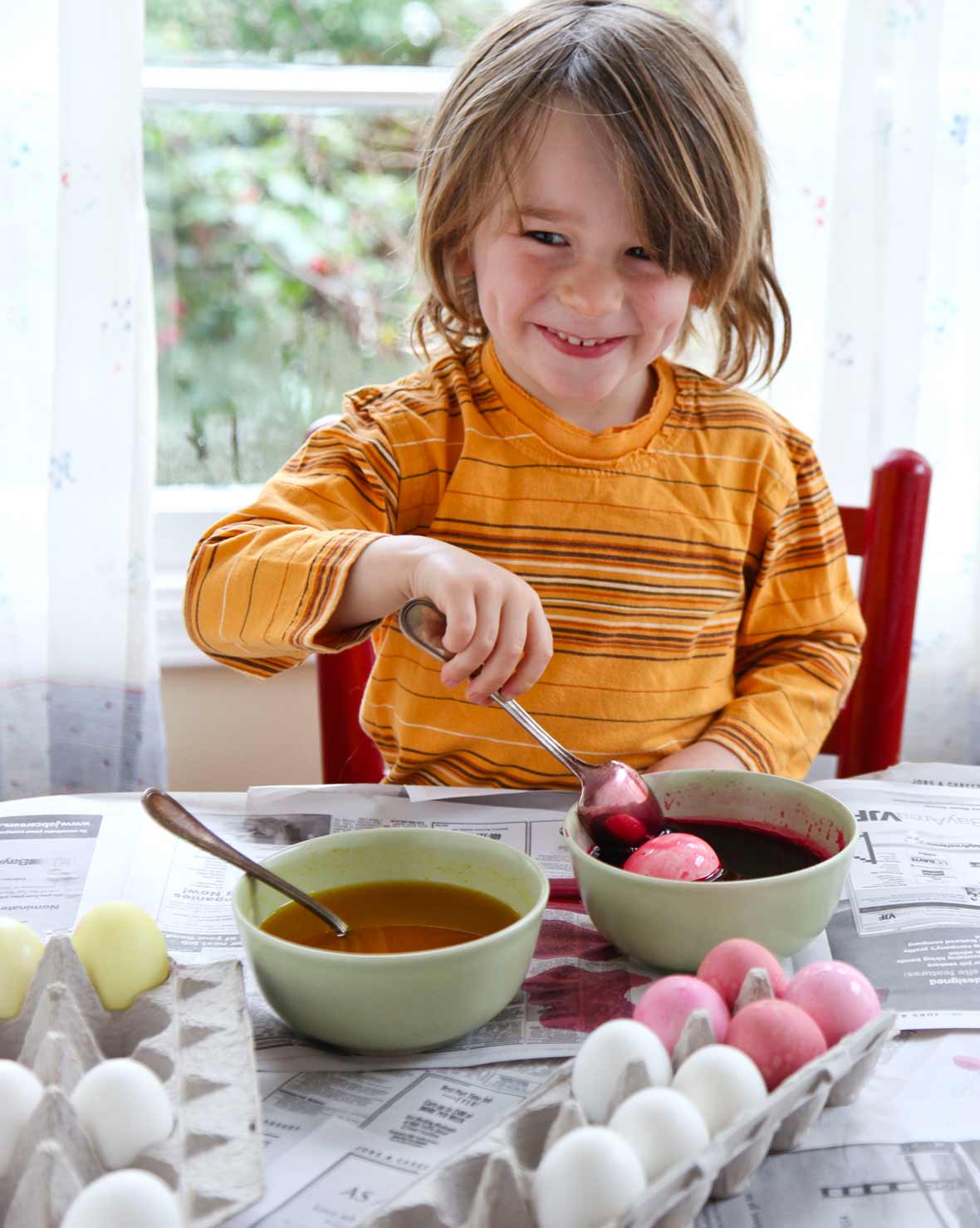 Dyed Easter Eggs
Quick Glance
15 M
45 M

Makes as many as you'd like
Special Equipment: Patience. Lots and lots of patience.
Ingredients
Eggs, preferably white and not brown

White (distilled) vinegar

Cold water

Dye ingredients (ideas follow, but feel free to follow your instincts and go all zany)
Directions
1. To prepare the eggs, gently place them in a large pot and add enough cold water to completely cover them. Bring to a boil over high heat, then turn off the heat. Let the eggs stand in the hot water for 20 minutes. Using a spoon, carefully remove the eggs from the water and pat them dry. Set aside until cool enough to handle.

2. To prepare the dyes, for each color bring 3 cups water to a boil in a large pot and then add 1 to 2 tablespoons vinegar and the dyeing ingredient for the desired color. Return the water to a boil. Cover the pot, reduce the heat to medium-low, and simmer for 20 to 30 minutes. Carefully strain the dyeing liquid into a bowl or wide-mouth jar, discarding the solids. Let the liquid dye cool. Repeat with each dyeing ingredient.

3. To dye the eggs, when both the eggs and the dyeing liquid are cool, add an egg or two to each bowl of dye. Set aside, turning occasionally, until the desired hue is achieved. (Naturally, the longer you leave the eggs in the dye, the more robust the color. Depending on the desired color, the eggs may need to sit as little as a few minutes or as long as overnight.) Transfer the eggs to a plate lined with a paper towel or return them to their egg carton until dry to the touch.
Color Me A Rainbow Variations
Red Beets for Magenta- or Red-Dyed Eggs
Use 6 medium red beets, grated, or 4 cups canned beets, chopped. (The longer the eggs remain in the solution, the closer they become to brown. For a more true red, use brown not white eggs.)
Red Cabbage for Pale Blue-Dyed Eggs
Use 4 cups chopped red cabbage, 4 additional cups water, and 3 additional tablespoons white vinegar.
Garam Masala for Caramel-Dyed Eggs
Use 3 to 4 tablespoons garam masala (an Indian staple that's a blend of up to 12 spices).
Blueberries for Lavender-Dyed Eggs
Use 4 cups fresh or frozen blueberries.
Coffee for Mocha-Dyed Eggs
Substitute strongly brewed coffee for the full amount of water.
Red Wine for Burgundy- to Purple-Dyed Eggs
Substitute red wine for the full amount of water. (Not your best Cabernet Sauvignon, mind you. Any plonk will do. And bear in mind, the egg will turn a darker shade as it dries…sort of like that splotch of carmenere on your rug.)
Curry Powder for Pale Yellow-Dyed Eggs
Use 3 to 4 tablespoons curry powder.
Turmeric for Vibrant Yellow-Dyed Eggs
Use 3 to 4 tablespoons ground turmeric. (Wipe the excess ground spice from the eggs with a damp cloth after extricating them from the dye.)
Yellow Onion Skins for Pale Yellow-Dyed Eggs
Use 4 or more yellow onion skins.
Dyed Easter Eggs Recipe © 2012 Renee Schettler Rossi. Photo © 2012 Sheri Giblin. All rights reserved. All recipes and photos used with permission of the publisher.
Source | Foodbase.fun