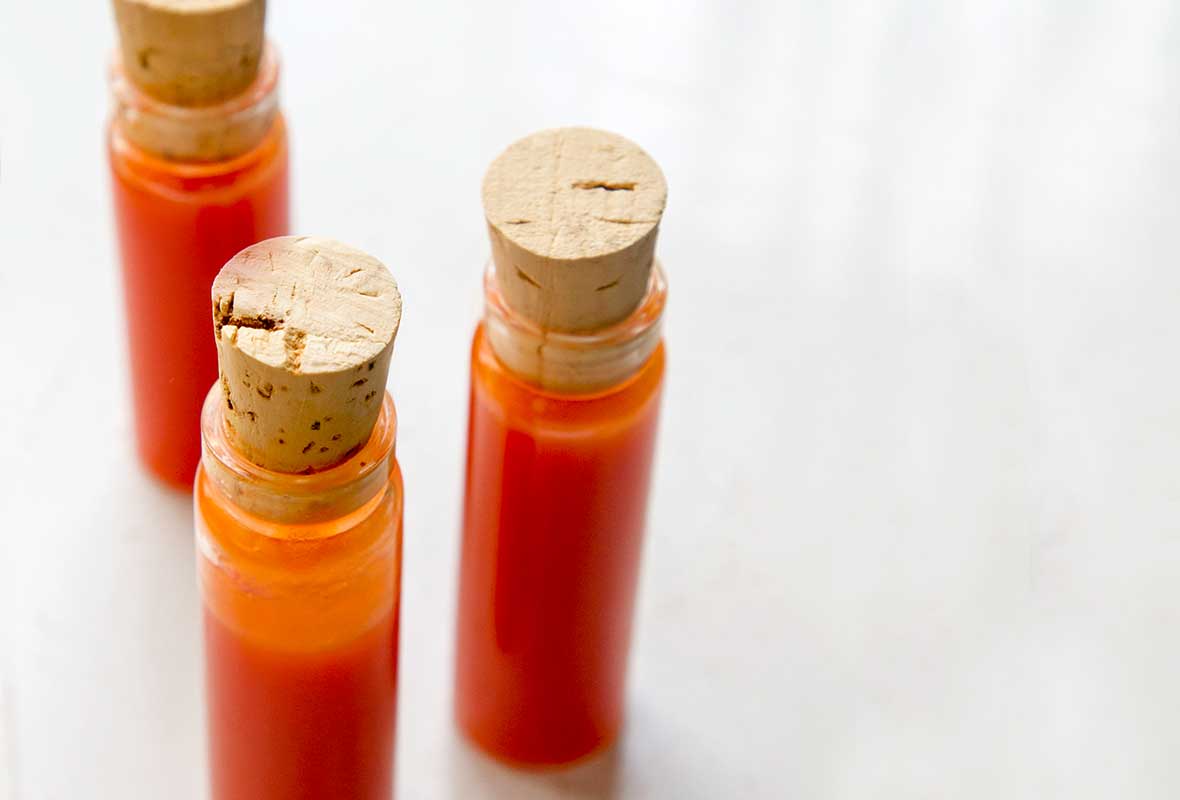 Homemade hot sauce is easy to make with just hot peppers, salt, vinegar, and patience. That's all you need to make the best hot sauce ever.
"Spectacular." That's the word more than one of our recipe testers used to sum up their feelings about this homemade hot sauce recipe. Another referred to it as "a best-of-all-worlds hot sauce." And someone else said "I have NEVER tasted a hot sauce so complete and, to use an overused yet perfect word to describe it, complex." We're not going to argue. Trust us when we say that with this recipe, you'll earn bragging rights as the maker of the best hot sauce ever. Originally published January 17, 2015.–Renee Schettler Rossi
*NOTE What Is Pickling Salt?
Don't let a single potentially unfamiliar ingredient keep you from making this homemade hot sauce recipe. The ingredient in question is pickling salt. It's simply pure granulated salt without any anti-caking agents. And it's more readily obtainable than you may think. Go on. Google it. Then make this recipe.
Homemade Hot Sauce
Quick Glance
25 M
7 D

Makes 1 quart
Special Equipment: Mason jars with O-rings (that's the metal ring thinger)
Ingredients
1 pound fresh cayenne peppers, stemmed (about 4 cups)

About 2 tablespoons water

1 1/2 teaspoons pickling salt* (see NOTE above)

2 cups distilled white vinegar
Directions
1. Pack the peppers in a food processor and pour in the water. Pulse until the peppers form a chunky mass made of small pieces and then add the salt. (If you're the sort of home cook who likes to use weights and measures, you're going for about 2.5% salinity in your initial fermentation.)

2. Place the peppers in a large Mason jar, cover it with a square of paper towel, and secure the towel with the jar's O-ring (the metal ring thinger). Store the jar in a dark spot that hovers around 70°F (20°C)—a kitchen cabinet works well—and let it do its thing, undisturbed, for 48 hours.

3. Skim any accumulated mold from the surface and stir the peppers. Cover again with the paper towel and the jar's O-ring and repeat the skimming and stirring every day or so for 5 more days. The total fermentation time is 1 week.

4. After skimming any accumulated mold from the surface on the last day, dump the fermented peppers into the food processor and pulse a couple of times. Strain the mixture into a large pitcher or other container, pressing on the solids with the back of a spoon or with a small spatula to remove all the liquid. Add the vinegar to the strained liquid and stir. Pour the hot sauce into jars, cover tightly with rings and lids, and refrigerate for up to several weeks.
Homemade Hot Sauce Recipe © 2014 Hugh Acheson. Photo © 2014 Rinne Allen. All rights reserved. All recipes and photos used with permission of the publisher.
Source | FoodBase