These dirt bombs, based upon those sold at Bantam Bread Company in Bantam, CT, are irresistible baked donuts spiked with nutmeg and cardamom and rolled in butter and cinnamon sugar.
I could wax poetic about Niles Golovin's Bantam Bread Company, a local bakery in Connecticut, and their more than a dozen types of buxom breads and stunning pastries. Instead, I want to Sing the Belly Electric of what is arguably the homiest (The One would say "homliest") looking treat in the joint: the famous Dirt Bomb, a sweet hailed by the New York Times, Food Network, and Jane and Michael Stern, among others.
"What is a dirt bomb?" you may be asking. For the unfortunately unenlightened, a dirt bomb is a nutmeg-inflected cake donut baked in a muffin tin, dunked in melted butter while still warm, and then tossed in cinnamon sugar. And it's the closest you can get to having an illicit affair without actually cheating on your significant other.
Can't make it to Bantam, CT, anytime soon? Say hello to the next best thing. The Dirt Bombs recipe. I've taken a few liberties with the bakery's original recipe by adding cardamom and vanilla to the batter. And while I was trying to be demure in the video found below by dunking only the tops in butter before rolling them in the cinnamon sugar, when no one's looking, I go whole hog and dunk the entire damn thing in the butter and roll every last millimeter of it in cinnamon sugar.
Make them and you'll thank me. And your family will thank you. And know that whatever gender you identify with, after you try them, you'll suddenly find yourself twirling, Donna Reed-style, out of the kitchen every day with a plate of these Love Buns for all. It's the kumbaya of breakfasts, desserts, midnight noshes, and anytime-of-day snack attacks, bringing joy to all who chow down.–David Leite
Want a "Dirtier" Dirt Bomb?
These wonders of wonder can handle quite a bit of improvisation. Consider adding ground ginger to either the batter or the coating. The same with cloves, allspice, and anise. Just go lightly. Chocolate chunks would work in the batter for those who like to heavily gild the lily. Just please make certain to use a top-quality brand. Whatever you do to zhuzh these up, remember that unlike Bantam Bread's dirt bombs, which can be inhaled the day after being baked and still taste great, these are best eaten the same day and preferably while warm from the oven.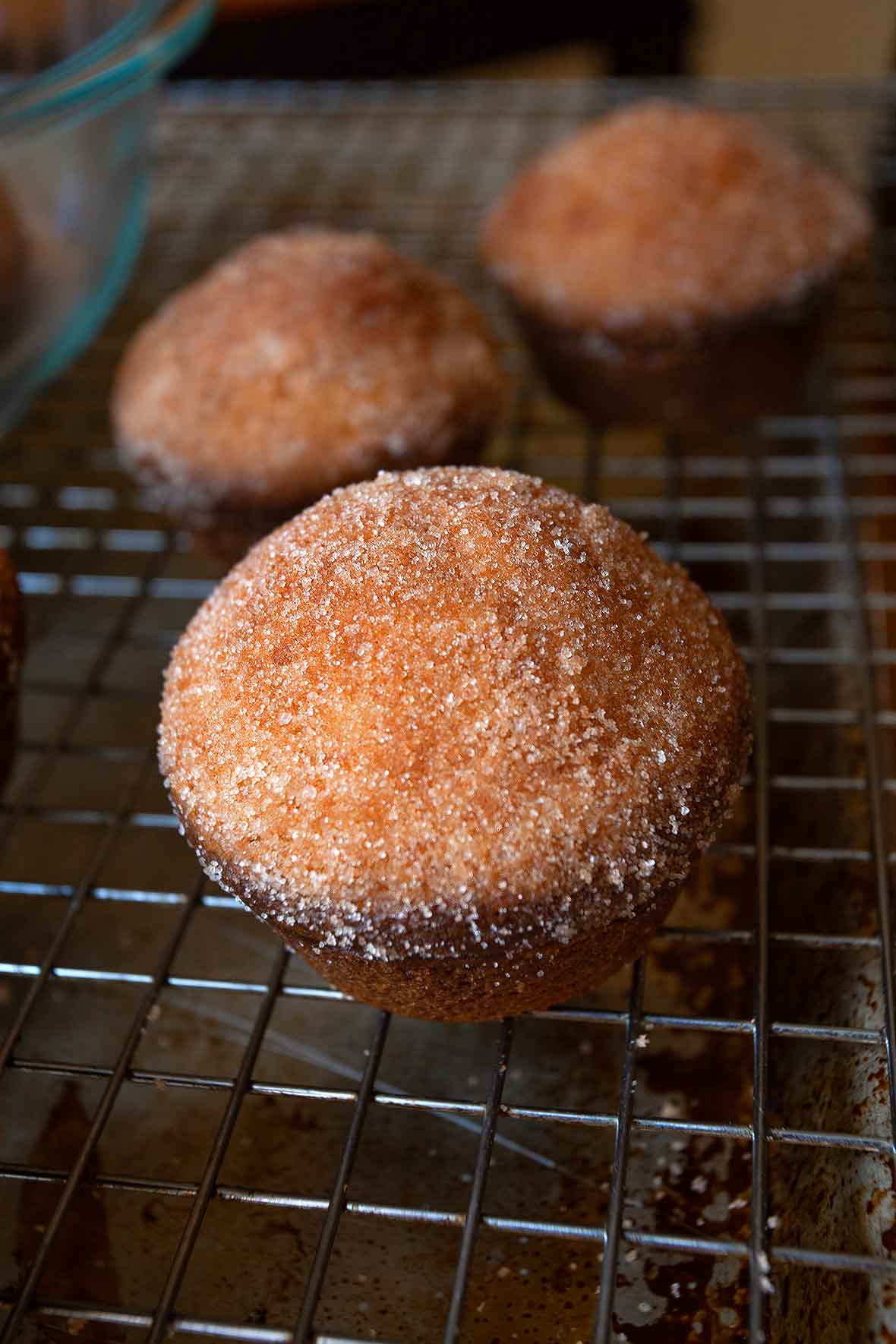 Dirt Bombs
Quick Glance
15 M
45 M

Makes 12
Ingredients
For the dirt bombs

Nonstick cooking spray

2 1/4 cups all-purpose flour

2 teaspoons baking powder

1 teaspoon kosher salt

1/2 teaspoon ground nutmeg

1/4 teaspoon ground cardamom

1 stick unsalted butter (4 oz), room temperature

3/4 cup granulated sugar

1 large egg

1/2 teaspoon vanilla extract

1 cup whole milk

For the cinnamon-sugar topping

3/4 cup granulated sugar

1 1/2 teaspoons ground cinnamon

12 tablespoons unsalted butter (6 oz), melted
Directions
Make the dirt bombs

1. Crank up the oven to 375°F (190°C). Coat a standard 12-cup muffin pan with the nonstick spray.

2. In a medium bowl, whisk together the flour, baking powder, salt, nutmeg, and cardamom.

3. In a stand mixer or a large bowl using an electric mixer, beat the butter and sugar on medium speed until light and fluffy, 4 to 5 minutes. And the egg and vanilla and beat until smooth. With the mixer on low, alternate adding the flour mixture and milk in three batches beginning and ending with the flour. The batter should look like an irresistibly thick cake batter.

4. Divvy the batter among the muffin cups and bake, turning the pan once halfway through, until a toothpick inserted into the center of the dirt bombs comes out clean, 18 to 23 minutes. Let the dirt bombs cool 5 minutes in the pan and then transfer them to a wire rack.

Make the cinnamon-sugar topping

5. While the dirt bombs cool, mix the sugar and cinnamon in a medium bowl.

Coat the dirt bombs
6. Dip each dirt bomb–top and bottom–in the melted butter and then in the cinnamon sugar, turning to coat them completely. Indulge immediately, while still warm, for the most soul-satisfying experience. The dirt bombs will still be quite sigh-inducing even after room several hours at room temperature–but no more.
Dirt Bombs Recipe © David Leite. Photos © David Leite. All rights reserved. All recipes and photos used with permission of the publisher.
Source | Foodbase.fun